October 2022
First-look images released of Martin Compston and Tony Curran in BBC adaptation of Mayflies as further casting is announced
Produced by BAFTA award-winning Synchronicity Films (The Cry), first look images have been released for upcoming drama Mayflies, which has been adapted by Andrea Gibb (Elizabeth Is Missing) from Andrew O'Hagan's acclaimed novel of the same name and directed by Peter Mackie Burns (Rialto) for BBC One, BBC Scotland and BBC iPlayer.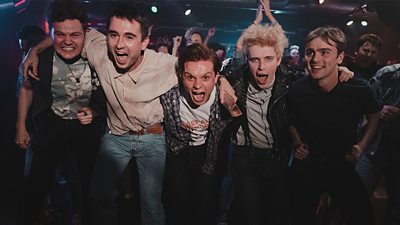 Set and filmed in Scotland, Mayflies is a co-commission with BBC Scotland in association with All3Media International with support from Screen Scotland. All3Media International is also handling worldwide sales outside the UK.
Alongside previously announced Ashley Jensen as Anna, further names joining the cast include Tracy Ifeachor (Showtrial), as Iona, Tom Glynn-Carney (Dunkirk) as young Tully, Rian Gordon (Vigil) as young Jimmy, Paul Gorman (Outlander) as young Hogg, Elaine C Smith (Two Doors Down) as Barbara, Shauna Macdonald (The Descent) as Fiona, Cal MacAninch (Time) as Tibbs, Colin McCredie (River City) as Scott and newcomers Matt Littleson as young Limbo and Mitchell Robertson as young Tibbs.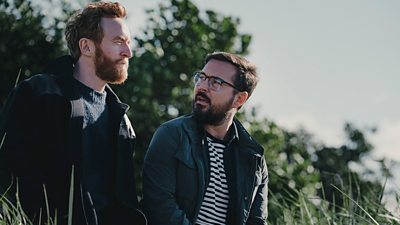 Everyone has a Tully Dawson (Tony Curran) – the friend who defines your life. In the summer of 1986, in a small Scottish town, Jimmy (Martin Compston) and Tully ignite a brilliant friendship based on music, films and the rebel spirit. With school over and the locked world of their fathers before them, they rush towards the climax of their youth – a magical weekend in Manchester, the epicentre of everything that inspires them in working-class Britain. There, against the greatest soundtrack ever recorded, a vow is made: to go at life differently. Thirty years on, half a life away, the phone rings. Tully has the worst kind of news, and a request that will test their friendship, love, and loyalty to the limit…
Mayflies is a memorial to youth's euphoria and to everyday tragedy. A tender goodbye to an old union, it discovers the joy and the costs of love.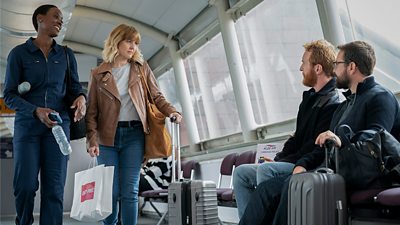 Mayflies (2×60') is a Synchronicity Films production for the BBC and is produced by Brian Kaczynski, written by Andrea Gibb and directed by Peter Mackie Burns. Executive producers are Andrea Gibb, Andrew O'Hagan, Claire Mundell for Synchronicity Films, Gavin Smith for BBC Scotland and Gaynor Holmes for BBC Drama.
Mayflies was commissioned by Ben Irving, Acting Director of Drama, Gaynor Holmes, BBC Drama Commissioning Editor, and was co-commissioned by Louise Thornton, Head of Multi-Platform Commissioning, for BBC Scotland. All3Media International are handling worldwide sales outside of the UK.
Filming recently took place around Glasgow and Ayrshire. Mayflies will air later this year on BBC One, BBC Scotland and BBC iPlayer.